Laser hair removal on the bottom with the alexandrite laser
Laser hair removal is an excellent method of removing hair from the buttocks. Both the buttocks and the perianal area can be treated with the laser. It is important that the hair in this area is dark in color. Blonde, grey, white or red hair does not respond to treatment. A complete series of treatments is required for laser hair removal on the buttocks. In general, treatments are initially spaced 6 weeks apart. Depending on the result, the treatment intervals can be extended to 8 weeks after 5-6 sessions.
Course of treatment of laser hair removal on the buttocks
The buttocks, ie the area between the bottom of the back and the top of the legs, is a difficult area to treat with traditional hair removal. This is due to the sensitive skin and curved nature of this part of the body. That is why it is best to have painless and safe laser hair removal. Laser hair removal of the buttocks ensures permanent hair reduction. You don't have to wonder if the hair will grow back or if it has been completely removed. With our treatment, you no longer need to worry and you can regain your self-confidence. Permanent and effective hair removal doesn't mean the procedure has to be painful. The laser beam penetrating the skin only damages the hair follicle without injuring the epidermis. Therefore, the method is not only painless, but also safe for the skin.
Prices of a laser hair removal on the buttocks
After a successful consultation, you are free to decide whether you would rather book each treatment individually or for yourself
choose one of the advantage packages.
| Behandlung | Einzelpreis | Einzelpreis im 6er-Paket |
| --- | --- | --- |
| buttocks | €129 | €99 |
PACKAGE "GOLD" (popular)
Areale: Achseln, Beine, Bikini brasil
"FULL BODY" PACKAGE
Areale: vom Gesicht bis zum Fuß
FAQ laser hair removal on the buttocks
In ca. 8-10 Behandlungen ist es möglich, alle Haare dauerhaft zu entfernen. 
Die dauerhafte Haarentfernung ist mit dem Alexandrit-Laser oder dem Nd:YAG-Laser eine sehr schnell durchführbare Behandlung. Die Behandlung im Bereich der Oberlippe dauert wenige Minuten, im Achselbereich etwa 5 Minuten, an Beinen und Rücken etwa 20-30 Minuten.
• Keine Behandlung bei Schwangerschaft
• Mindestens 2 Wochen intensive Sonne auf dem zu behandelnden Areal vermeiden  
• 2 Wochen keine Einnahme von Medikamenten, welche die Lichtsensibilität erhöhen (z.B. Antibiotikum, Cortison, Antidepressiva, PrEP) 
• Ein Haarstoppel von ca. 2-3 mm ist die optimale Haarlänge für eine Laserbehandlung. Bitte ca. 48 Stunden vor der Behandlung das letzte mal rasieren (diese Zeit varriert je nach Haarwachstum).
Ein Rasieren vor Ort ist gegen eine Aufpreis von 15 € möglich. 
• 4-6 Wochen vor der ersten Laserbehandlung Waxing, Epilieren, Zupfen oder Sugarn einstellen und darf auch während dem kompletten Behandlungszeitraum nicht durchgeführt werden. 
• 2 Wochen vor Behandlungsbeginn und während des gesamten Behandlungszeitraums keinen Selbstbräuner verwenden und kein Solarium besuchen. 
• 24 Stunden vor der Behandlung darf das zu behandelnde Gebiet nicht eingecremt, geschminkt oder anderweitig hydratisiert werden. Teilen Sie uns bitte mit, wenn Sie in dem zu behandelnden Bereich Creme, Deo, Make-up, Haarspray, Parfüm oder ähnliches aufgetragen haben. 
• 2-3 Wochen intensive Sonne auf den behandelten Areal meiden und Sonnencreme nutzen ( 50 SPF alle 2,5 Stunden ) 
• 10-14 Tage kein Peeling, keine Cremes, die Bleichmittel enthalten oder chemisches Peeling  auf der
gelaserten Stelle verwenden
• 4 Wochen keinen Selbstbräuner verwenden und kein Solarium besuchen
• 72 Stunden können Rötungen und Pustelbildung anhalten 
• Hyperpigmentierungen/dunklere Stellen können von Fall zu Fall auftreten. Wenn Sie so etwas feststellen kontaktieren Sie uns.
I.d.Regel sind Sie nach einer dauerhaften Laser-Haarentfernung sofort gesellschaftsfähig.
Der Candela GentleMax Pro kombiniert zwei Laserplattformen: Alexandrit für helle Hauttöne und ND-YAG für dunklere Hauttöne. Beide Laser sind von der US-Bundesbehörde FDA zugelassen.
Das Mindestalter beträgt 18 Jahre.
GentleMax Pro - laser system
The Candela GentleMax Pro combines two laser platforms: Alexandrite for fair skin tones and ND-YAG for darker skin tones. Both lasers are FDA approved. With the two wavelengths, we can effectively and safely treat a variety of indications and more skin types than ever before.
The Candela GentleMax Pro is most commonly used to remove unwanted hair on the arms, lips, legs, cheeks, armpits and back. It also treats brown spots, hyperpigmentation, facial blue veins, uneven pigmentation, rosacea, vascular lesions and pigmented lesions.
The high-quality laser emits a beam of light that penetrates deep into the skin tissue to be treated and delivers a controlled amount of therapeutic heat.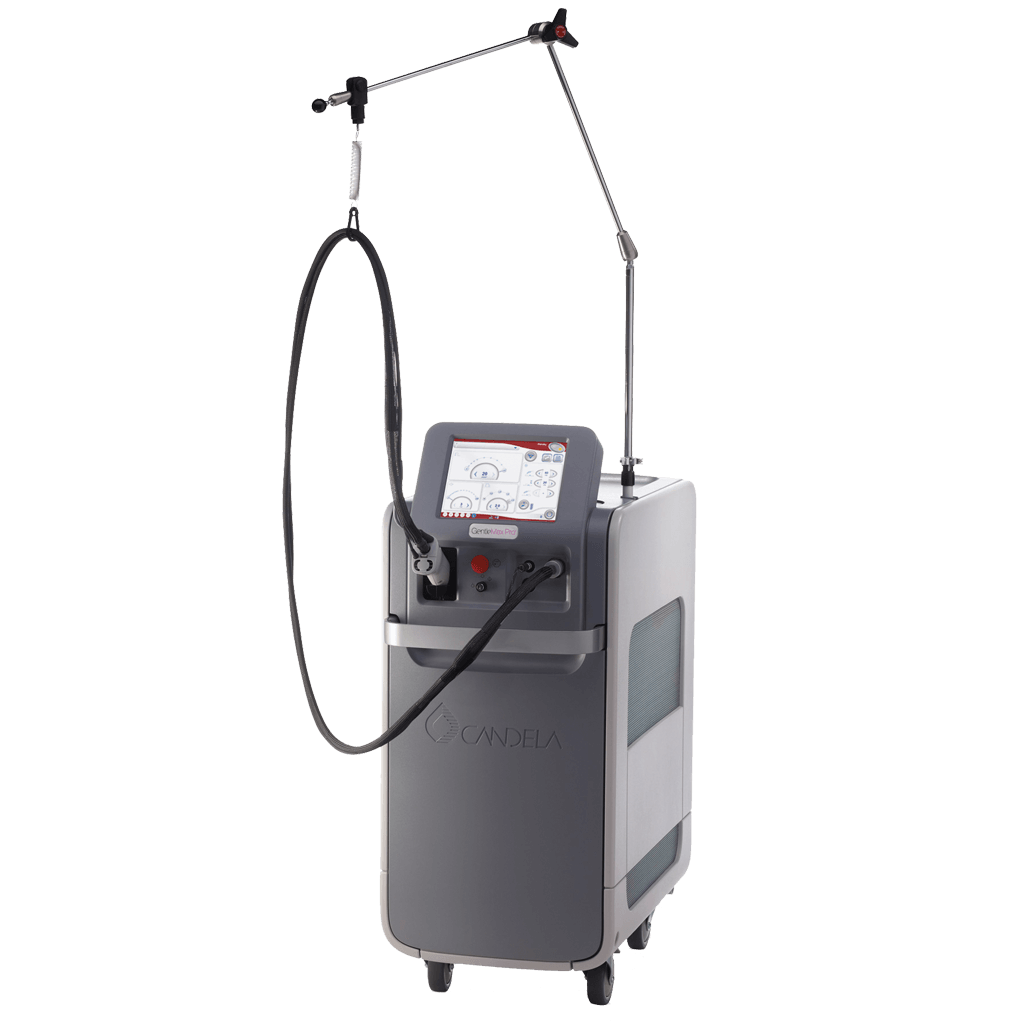 Permanent Hair Removal: Before / After
Treatments you may also be interested in