Removal of spider veins by laser in Frankfurt
Spider veins can cause many people distress and a great deal of shame, leading them to avoid certain activities and clothing to hide these blemishes.
The good news is that spider veins can be treated with the YAG laser procedure; this procedure can reduce, fade and even remove these vessels so that you can return to the clothes and activities you enjoy. At ERA Esthetic, we are proud to offer this spider vein treatment to our customers and invite you to learn more about it.
Treatment course of a laser treatment for spider veins
The laser creates a beam of high-intensity light that penetrates deep into skin tissue, where it delivers a controlled amount of targeted therapeutic heat. Candela's patented Dynamic Cooling (DCDTM) protects the top layer of skin with a cooling shot of cryogen. The long-pulsed laser together with the DCDTM cooling offers an optimal treatment with minimal side effects.
You will wear eye protection to protect your eyes from the laser light. Your practitioner will aim the laser handpiece at the treatment areas. The cooling spray is sprayed onto your skin before and after each laser pulse. A treatment can last from just a few minutes to an hour - depending on the size of the skin area to be treated.
Prices of spider veins removal by laser
After a successful consultation, you are free to decide whether you would rather book each treatment individually or for yourself
choose one of the advantage packages.
| Behandlung | Einzelpreis |
| --- | --- |
| blue-red veins (up to 10 minutes) | €239 |
| blue-red veins thigh complete | €289 |
| blue-red veins lower leg complete | €269 |
FAQ laser treatment spider veins
Some patients experience a slight discomfort from the laser pulse, sometimes described as a brief burning sensation on the skin. These complaints subside within a few seconds and are minimized by Candela's DCDTM cooling.
The number and duration of treatments depends on the condition of your skin and the extent of the veins. Usually you can expect 2-4 treatments.
Your risks are minimal. Side effects can include bruising, redness, blistering, skin pigmentation changes and swelling in the treated area - these usually last from a few hours to a few days. Permanent side effects such as hyperpigmentation, hypopigmentation or scarring are rare.
After laser treatment, sun exposure should be avoided by using a high sun protection factor (SPF 30 or more). During the first days after the treatment, the treated areas should not be cleaned intensively. Your practitioner may recommend additional precautions and care.
As a rule, you are socially acceptable immediately after treatment.
The GentleYAG system, a long-pulsed, high-power Nd:YAG laser, emits a gentle beam of light that penetrates through the skin to the target structure, where it is absorbed.
Most health insurance companies do not offer reimbursement for cosmetic procedures. However, some carriers cover the treatment of disfiguring birthmarks, such as port-wine stains. Contact your cash register for conclusive information on this.
The GentleYag Pro Laser has a maximum wavelength of 1,064 nm and is suitable for all skin types. The laser differs from diode lasers or IPL devices which are not suitable for dark and yellow/olive skin types as they may cause burns and dark spots after the treatment. GentleYag Pro treatment with a wavelength of 1,064 nm will not lead to such undesirable side effects and results. With this laser treatment, the laser beam can penetrate much deeper and more focused into the hair layers compared to other laser devices. As a result, the GentleYag Pro device is currently the most modern and effective laser system for permanently destroying hair follicles. Many applicators and scarf heads are available to work on different parts of the body in an appropriate and effective manner.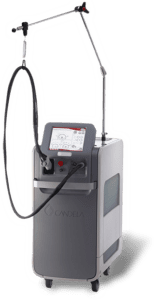 Treatments you may also be interested in