Stubble-free & the bikini fits perfectly
With bikini hair removal, the hair in the pubic area is removed. Some leave just a strip of hair in the front, while others remove it entirely. ERA Esthetic uses, among others, the GentleMax Pro Alexandrite for all our bikini laser hair removal treatments.

Laser hair removal in the bikini zone with the alexandrite laser
Bikini laser hair removal is the most effective way to permanently reduce unwanted hair in the bikini area. Whether you want a Brazilian, Hollywood or simple bikini line, we have laser hair removal devices for all skin types.
The classic bikini line removes all hair outside the underwear (or bikini line) and a little further in. How far you want to go inwards can be discussed directly with your laser therapist. This basic bikini line will keep you swimsuit ready and your hair neat and tidy, especially when combined with trimming.
If shaving or waxing is driving you insane, painful, itchy or you have ingrown hairs, bikini laser hair removal is ideal. There are no ingrown hairs with laser hair removal and because it is permanent hair removal there is no itchy regrowth and no regular uncomfortable or painful shaving or waxing sessions.
Course of treatment of laser hair removal in the bikini zone
If you have waxed your bikini area before, you can rest assured that the treatment will be less painful than any other waxing treatment. Most of our customers say that laser hair removal feels like a slight pinch in the treatment area. Luckily, as the number of treatments increases, your body gets used to the feel of the laser, making it easier to control the sensation. If you also use a numbing cream, you will feel the pulses of laser light on your skin significantly less.
Laser hair removal prices in the bikini zone
After a successful consultation, you are free to decide whether you would rather book each treatment individually or for yourself
choose one of the advantage packages.
| Behandlung | Einzelpreis | Einzelpreis im 6er-Paket |
| --- | --- | --- |
| Bikini classic | €79 | €69 |
| Brazilian bikini | €149 | €109 |
PACK "SILVER"
Areale: Achseln, Bikini Brasil
PACKAGE "LADY" (popular)
Areale: Unterschenkel, Achseln, Bikini Brasi
PACKAGE "GOLD" (popular)
Areale: Achseln, Beine, Bikini brasil
FAQ Laser hair removal in the bikini zone
6-10 sessions are recommended
The area must be shaved 24 hours before your appointment. No makeup/lotion/deodorant on the day of your appointment (in the treatment area). Stay out of direct sunlight for at least 3 days before your appointment (& 3 days after). Do not use self-tanning or spray tan products for at least 2 weeks prior to your treatment to avoid possible injury. Avoid drinking more than 2 alcoholic beverages 24 hours before your treatment. Avoid growing or plucking in the area for at least 4 weeks. Shaving is okay!
Immediately after your bikini area laser hair removal treatment, you may feel a slight burning sensation similar to a mild sunburn. Our experts will ask you if you would like aloe vera to soothe the immediate redness or swelling. To relieve the discomfort, you can take a pain reliever (other than ibuprofen), avoid caffeine, and apply a cool compress to the area.
With each treatment, the laser settings are increased so that the pubic hair can be eliminated. You will notice the treated hair becoming lighter and thinner, and in no time the discomfort will subside as the pubic hair becomes thinner. You should also shave the pubic area within 24-48 hours after laser hair removal and avoid direct sunlight for at least 2 weeks after the treatment (and before the next treatment). If you have any questions or concerns, our ERA Esthetic Team is here to help.
They are usually immediately socially acceptable
Permanent hair removal with the alexandrite laser cannot be accelerated because biological processes such as the growth phases of the individual hairs are genetically pre-programmed. Everyone has three different stages of hair growth. The anagen phase is the active growth phase. This is the only stage where laser hair removal is effective. Only 20% of hair is actively growing during an anagen growth phase, which is why multiple laser hair removal treatments are required to effectively achieve long-term results. The phase can last 3-4 months on the body.
We use the GentleLASE laser, currently the best laser device on the market, which has a special cooling system for the skin that makes the treatment much more comfortable than other laser devices. Your time is also important to us. Our individual laser hair removal sessions are very quick due to the industry's largest "spot size". This means patients are exposed to fewer laser pulses for the same treatment area - maximizing comfort and minimizing time. Many customers who have previously worked with electrolysis or lasers with smaller spot sizes immediately switch to our laser treatment system once they understand its benefits. The laser is an FDA-approved procedure that is comfortable and effective for the entire body thanks to Candela's special cooling system.
GentleMax Pro - laser system
The Candela GentleMax Pro combines two laser platforms: Alexandrite for fair skin tones and ND-YAG for darker skin tones. Both lasers are FDA approved. With the two wavelengths, we can effectively and safely treat a variety of indications and more skin types than ever before.
The Candela GentleMax Pro is most commonly used to remove unwanted hair on the arms, lips, legs, cheeks, armpits and back. It also treats brown spots, hyperpigmentation, facial blue veins, uneven pigmentation, rosacea, vascular lesions and pigmented lesions.
The high-quality laser emits a beam of light that penetrates deep into the skin tissue to be treated and delivers a controlled amount of therapeutic heat.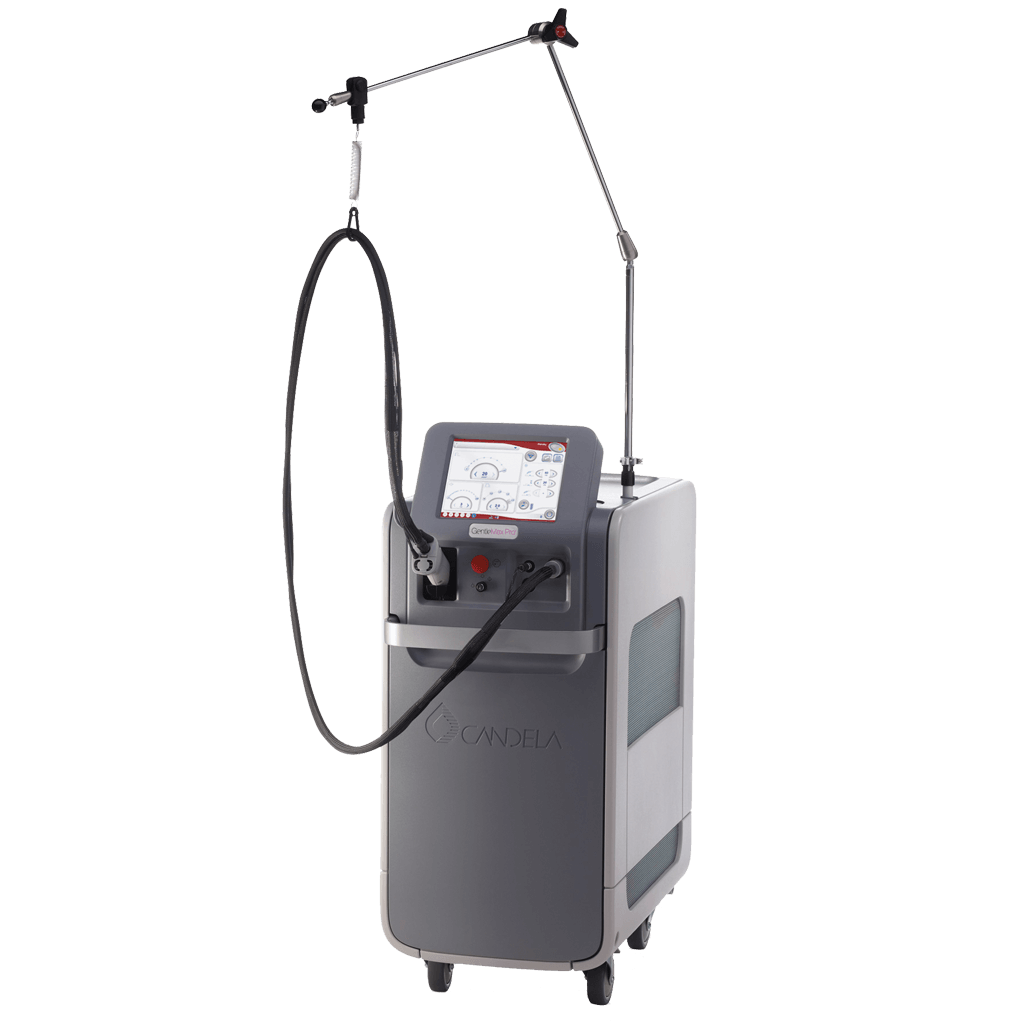 Permanent Hair Removal: Before / After
Treatments you may also be interested in