Thanks to the latest laser technology, laser hair removal can put an end to your hairy back.

Laser hair removal on the back with the alexandrite laser
Laser hair removal is the ultimate solution to all the inconveniences of temporary hair removal methods.
Eliminate the pain of waxing, the inconvenience and the timing of shaving, stop struggling with ingrown hairs and enjoy your permanently smooth legs!
Laser hair removal solves the problem of unwanted hair. We use the most advanced laser technology in the world: the Candela Gentle Max Pro, which combines two different lasers - GentleYag for darker skin and Alexandrite for lighter skin tones.
The Candela Gentle Max Pro has a unique cooling system that makes the treatment comfortable and painless.
Course of treatment of laser hair removal on the back
Laser safety goggles are donned at the start of the session; to protect the eyes during laser treatment.
At the treatment appointment, the experts will mark your back with a pen and divide it into several zones, each of which will be treated. Thus, it can be understood where you have previously lasered.
One advantage of the GentleLase Max Pro system with the alexandrite laser, in addition to its effectiveness, is the patented "Cooling Device" technology, which releases a cryogenic cooling shock in milliseconds, cooling the skin down shortly before the laser shock and consequently no contact gel or similar is required will.
Prices of a laser hair removal on the back
After a successful consultation, you are free to decide whether you would rather book each treatment individually or for yourself
choose one of the advantage packages.
| Behandlung | Einzelpreis | Einzelpreis im 6er-Paket |
| --- | --- | --- |
| move | 199,-€ | 159,-€ |
| shoulder girdle | 119,-€ | 99,-€ |
| median line | €69 | €59 |
| neck | €69 | €59 |
"UPPER BODY" PACKAGE
Rücken, Schulter, Nacken, Brust, Bauch
In ca. 8-10 Behandlungen ist es möglich, alle Haare dauerhaft zu entfernen. 
Die dauerhafte Haarentfernung ist mit dem Alexandrit-Laser oder dem Nd:YAG-Laser eine sehr schnell durchführbare Behandlung. Die Behandlung im Bereich der Oberlippe dauert wenige Minuten, im Achselbereich etwa 5 Minuten, an Beinen und Rücken etwa 20-30 Minuten.
• Keine Behandlung bei Schwangerschaft
• Mindestens 2 Wochen intensive Sonne auf dem zu behandelnden Areal vermeiden  
• 2 Wochen keine Einnahme von Medikamenten, welche die Lichtsensibilität erhöhen (z.B. Antibiotikum, Cortison, Antidepressiva, PrEP) 
• Ein Haarstoppel von ca. 2-3 mm ist die optimale Haarlänge für eine Laserbehandlung. Bitte ca. 48 Stunden vor der Behandlung das letzte mal rasieren (diese Zeit varriert je nach Haarwachstum).
Ein Rasieren vor Ort ist gegen eine Aufpreis von 15 € möglich. 
• 4-6 Wochen vor der ersten Laserbehandlung Waxing, Epilieren, Zupfen oder Sugarn einstellen und darf auch während dem kompletten Behandlungszeitraum nicht durchgeführt werden. 
• 2 Wochen vor Behandlungsbeginn und während des gesamten Behandlungszeitraums keinen Selbstbräuner verwenden und kein Solarium besuchen. 
• 24 Stunden vor der Behandlung darf das zu behandelnde Gebiet nicht eingecremt, geschminkt oder anderweitig hydratisiert werden. Teilen Sie uns bitte mit, wenn Sie in dem zu behandelnden Bereich Creme, Deo, Make-up, Haarspray, Parfüm oder ähnliches aufgetragen haben. 
• 2-3 Wochen intensive Sonne auf den behandelten Areal meiden und Sonnencreme nutzen ( 50 SPF alle 2,5 Stunden ) 
• 10-14 Tage kein Peeling, keine Cremes, die Bleichmittel enthalten oder chemisches Peeling  auf der
gelaserten Stelle verwenden
• 4 Wochen keinen Selbstbräuner verwenden und kein Solarium besuchen
• 72 Stunden können Rötungen und Pustelbildung anhalten 
• Hyperpigmentierungen/dunklere Stellen können von Fall zu Fall auftreten. Wenn Sie so etwas feststellen kontaktieren Sie uns.
I.d.Regel sind Sie nach einer dauerhaften Laser-Haarentfernung sofort gesellschaftsfähig.
Der Candela GentleMax Pro kombiniert zwei Laserplattformen: Alexandrit für helle Hauttöne und ND-YAG für dunklere Hauttöne. Beide Laser sind von der US-Bundesbehörde FDA zugelassen.
Das Mindestalter beträgt 18 Jahre.
GentleMax Pro - laser system
The Candela GentleMax Pro combines two laser platforms: Alexandrite for fair skin tones and ND-YAG for darker skin tones. Both lasers are FDA approved. With the two wavelengths, we can effectively and safely treat a variety of indications and more skin types than ever before.
The Candela GentleMax Pro is most commonly used to remove unwanted hair on the arms, lips, legs, cheeks, armpits and back. It also treats brown spots, hyperpigmentation, facial blue veins, uneven pigmentation, rosacea, vascular lesions and pigmented lesions.
The high-quality laser emits a beam of light that penetrates deep into the skin tissue to be treated and delivers a controlled amount of therapeutic heat.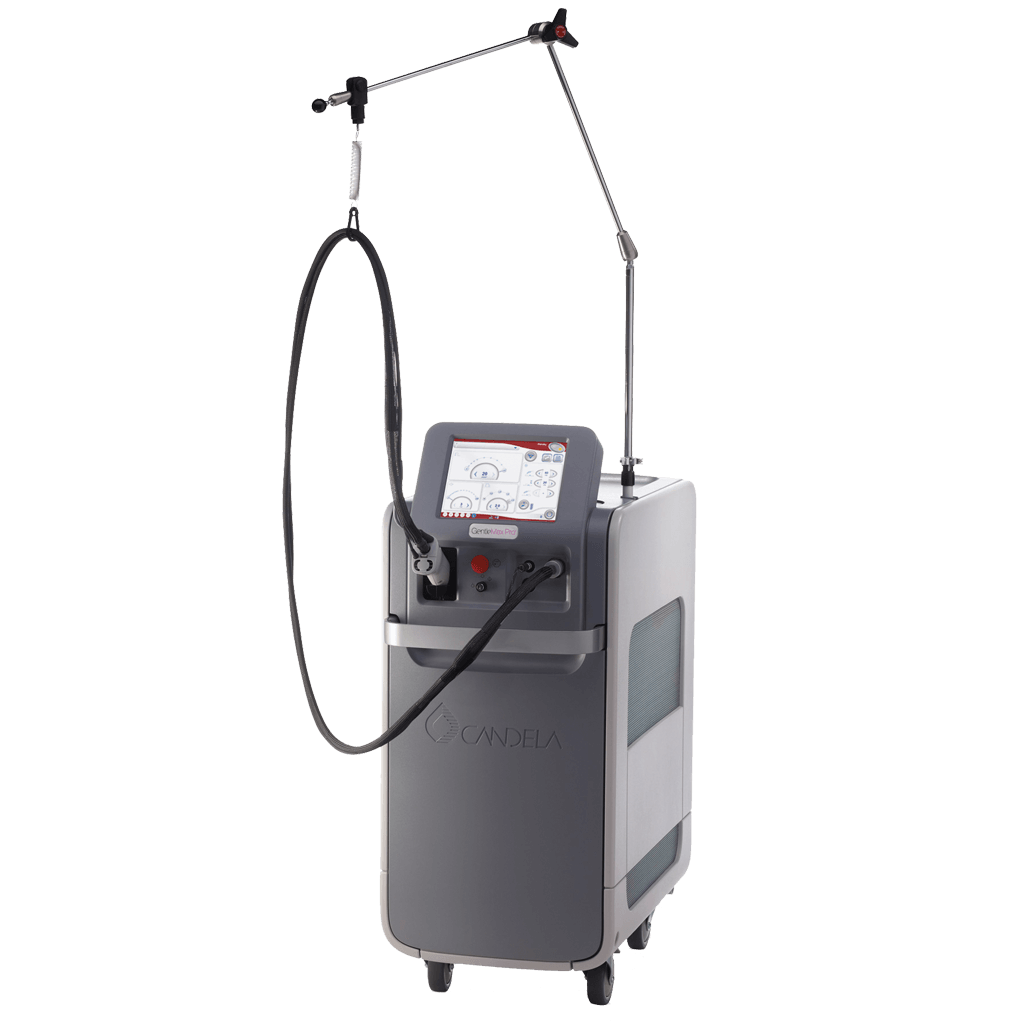 Permanent Hair Removal: Before / After
Treatments you may also be interested in